Helping Young Minds
Shine Brighter
Rising Leaders Academy (RLA) is incorporated in the State of Florida as a non-profit organization and operates as a 501(c)(3) non-profit organization in Bay County, FL. RLA is a tuition-free charter school open in Panama City. Students must be residing in Bay County to enroll at RLA. Rising Leaders Academy is committed to developing young minds and focuses on building confidence, motivation, focus, and problem-solving skills. In 2015, RLA was accredited by AdvacED. AdvancED was created through a merger of the North Central Association Commission on Accreditation and School Improvement (NCA CASI) and the Southern Association of Colleges and Schools on Accreditation and School Improvement (SACS CASI)—and expanded through the addition of the Northwest Accreditation Commission (NWAC).
Mission of RLA:
Students will achieve academic excellence through a developmentally rigorous, innovative, challenging curriculum in a warm, nurturing, and safe environment.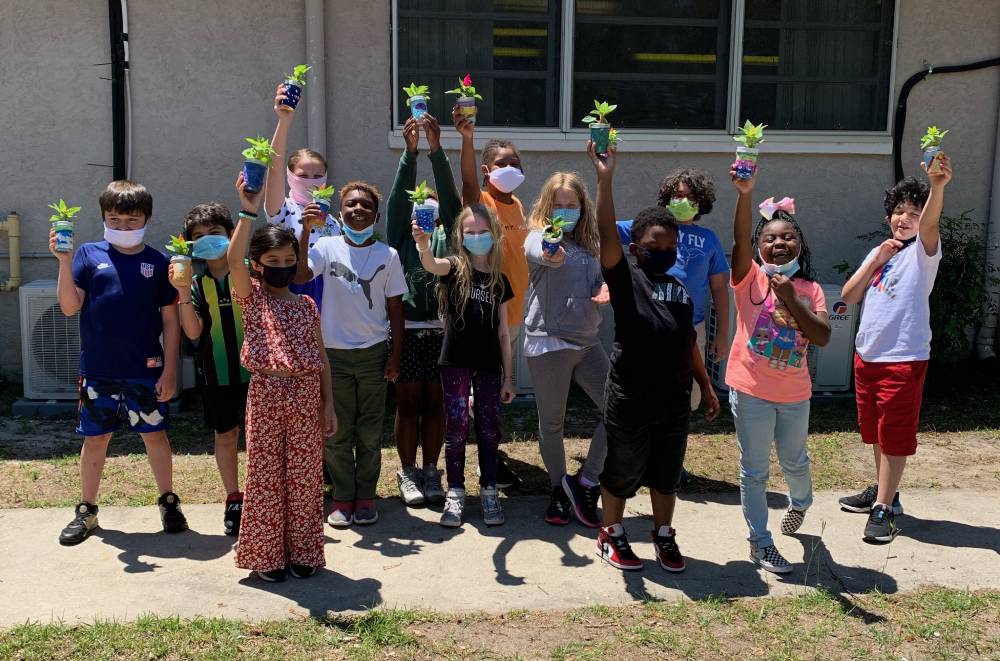 Entrepreneurship
Rising Leaders Academy teaches students about Entrepreneurship by transforming the school into a miniature society run by the students themselves and tied to state standards and all curriculum areas. It has all the components that one would find in any adult society, including the economic system with its own currency, banks, and businesses. Students earn money through work and use their money to buy goods and services provided by other students. As students assume more responsibility, teachers become facilitators and consultants. There are also roles for parents and community partners. It aims to nurture higher-order thinking skills, in large part by making learning intensely relevant and reflective of "real world" experience. The activities are designed by our staff with support from community organizations like Gulf Coast College's Business Innovation Center.
RLA is not affiliated with any MicroSociety(R) trademark. We develop our own programs to provide our students with real-world learning. Our parents, families, and community play a big role in our entrepreneurship programs and support our students and staff.
Leadership
Every student at school is a Rising Leader, who is expected to work hard and show excellent character. Rising Leaders learn to think critically, collaborate with others, creatively solve problems, and serve their community. They are taught to be effective leaders in the 21st century by learning. Our Rising Leaders present often to the public.
Our students are taught The 7 Habits of Highly Effective People by Stephen R. Covey and are reminded to apply them throughout the day:
Habit 1: Be Proactive
Habit 2: Begin with the End in Mind
Habit 3: Put First Things First
Habit 4: Think Win-Win
Habit 5: Seek First to Understand, Then to Be Understood
Habit 6: Synergize
Habit 7: Sharpen the Saw
Character Education
Rising Leaders Academy focuses heavily on providing a positive, nurturing environment by emphasizing positive character traits. The character education traits that are integrated into the curriculum are honesty, respect, responsibility, fairness, caring, and citizenship. RLA emphasizes these traits strongly by going over them and displaying them throughout the school daily.
Project-Based Learning
Project-based learning sharpens 21st-century skills that students need to be successful in today's world. They are framed around the 4C's, which are very important at RLA:
– Critical Thinking & Problem Solving
– Communication
– Collaboration
– Creativity & Innovation
We partnered with Expeditionary Learning (EL) during the first school year. Expeditionary Learning is one of the Nation's most innovative and successful school design instructional models. Through EL's design principles and practices, EL school designers helped teachers implement real-life, project-based learning expeditions that promote literacy and integrate curricular content. The Expeditionary Learning model helps deliver on our guiding principle of building communication skills, student character, and community/environmental responsibility. Teachers structure learning around real problems, encouraging students to learn in settings outside the classroom and the school building.
Community Circles
Rising Leaders Academy has a Community Circle several times a year. This is a time when our students, teachers, and families come together and celebrate learning. The students present and participate in public speaking. Experts and guests are invited to speak to our students. Awards are also presented to students at this time. The school community is invited to be a part of this celebration.
Communication Skills
RLA intends to expand students' capacity as powerful communicators. This is necessary to increase their learning opportunities and help them become more articulate individuals. Helping students communicate better will increase their motivation for learning and oral language development. RLA provides several opportunities for students to speak publicly throughout the school year.
Reading Culture
RLA will build a reading culture through the school. Reading will be essential in every class and required every day for homework, in which students will keep a log. Ongoing assessments in reading are implemented throughout the year to determine a student's reading grade level and progress, and to inform the student's instructor on a weekly, or daily basis, as needed. Students who read a certain number of books get recognized during the Community Circle and receive a "Readers are Leaders" ribbon.
Foreign Languages
We teach 3 out of the 6 official U.N. languages. Four official languages of the United Nations, used in intergovernmental meetings and documents, which RLA teaches to students are English, Arabic, and Spanish.
RLA provides students with a high command of foreign languages. Language acquisition research shows that second language acquisition helps improve students' cognitive skills, broaden their perspectives, and bridge the cultural gaps between students, parents, and teachers. According to the American Council on the Teaching of Foreign Languages, "language and communication are at the heart of the human experience".
Learning a second language has many advantages, which include:
- An increased understanding and compassion for other cultures.
- Students achieving greater divergent thinking, creativity, and cognitive development compared to monolingual children.
- Delay the onset of dementia
Service Learning
Service work connects classroom learning to real-world experiences and makes students more aware of their surroundings. Research suggests that service-learning can make a student more altruistic and caring. The development of interpersonal skills through service learning projects cannot be overstated. There is significant evidence to suggest that students who participate in service-learning activities show gains on achievement tests in reading and basic skills and earn higher grade point averages. Schools using service-learning on a regular basis report higher attendance and stronger student motivation. Finally, the impact on communities where service-learning has become a part of the curriculum is positive. In these environments, students are perceived as valued resources and contributing members of the community.
STEM
Rising Leaders Academy focuses heavily on Science, Technology, Engineering, and Mathematics. STEM education seeks to create 21st-century learning skills for students. STEM is a national initiative at the high school level, trickling down to only a handful of elementary and middle schools. RLA's unique implementation is called Expeditionary STEM Education, where we use Expeditionary Learning, as well as STEM curriculum-based learning.
Collaborative Learning
Collaborative learning is a great way for students to learn by socializing and working together to learn new information. Collaborative learning increases interpersonal skills and helps students experience success through meaningful and challenging tasks. Teachers at RLA provide frequent opportunities for students to collaborate with peers. This provides a positive interpersonal climate that motivates students. The teachers also provide interaction opportunities that meet the different interests of students. Cooperative learning activities offer motivational benefits because they respond directly to students' needs, as well as potential learning benefits that will help them achieve goals and be successful.
Block Scheduling
RLA's schedule reflects the reorganization of time, student grouping, and resources to support high-quality learning expeditions. Our school will provide longer and more flexible blocks of time for project-based learning and fieldwork, for team planning, and for community-building activities like community circles/celebrations. These extended learning blocks will promote mastery of academic skills and content and facilitate the execution of interdisciplinary learning expeditions (project-based learning) consistent with the state's learning objectives and performance standards. The previous decade saw a major scheduling innovation implemented in schools—the block schedule. As part of the restructuring movement, this scheduling innovation allowed schools to make significant departures from conventional school organization and practice. Block scheduling is supported by Expeditionary Learning.
Daily Schedule
Rising Leaders Academy will operate Mondays through Thursdays from 7:45 AM – 3:15 PM and Fridays from 7:45 – 12:45. This schedule allows for staff professional development to take place every Friday for the teachers after 12:45.